Mizu Natsuki
Topstar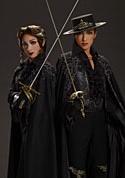 Hors ligne



Inscrit le: 02 Juil 2007
Messages: 1 992

Posté le: Jeu 21 Aoû - 22:34 (2008)

 

   Sujet du message: Histoire

---

Bridge of Tears, Bridge of Smiles





Une comédie sur l'argent et les gens....

Tokusaburou et Izayoi fuient ensemble, puisqu'ils ne peuvent régler la dette de leur père où elle travaille comme prostituée. Ils sont résolus à sauter ensemble du pont, mais le pont est exceptionnellement occupé cette nuit. Ils sont continuellement interrompus par diverses personnes essayant de résoudre leurs problèmes propres. Cela comprend Chouhei, qui donne sa fille O-Hise à O-Kise temporairement contre de l'argent. En retour, il promet de payer, mais quand il attrape les deux amants sur le point de sauter le pont, il leur donne avec réticence.

Tout comme ils se préparent à s'en aller, heureux dans leur bonne fortune inattendue, un autre jeune homme se présente et tente de sauter du pont car il a perdu l'argent de son maitre. Tokusaburou et Izayoi lui donnent l'argent qu'ils ont reçu, mais sont maintenant confrontés à un problème plus grave que par le passé ... Comment peuvent-ils sauter du pont quand ils doivent encore de l'argent à Chouhei ?

Tokusaburou prépare un plan intelligent ....