Mizu Natsuki
Topstar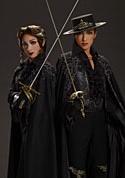 Hors ligne



Inscrit le: 02 Juil 2007
Messages: 1 992

Posté le: Jeu 28 Aoû - 10:22 (2008)

 

   Sujet du message: Histoire "Love Blooms Out on the Murasakino"

---

Love Blooms out on the Murasakino




Japon, Période d'Asuka. Ooama no Miko rencontre Nukata no Ookimi quand il va avec son frère (Nakano Ooe no Miko) à sa maison. Là, Nakano Ooe courtise la soeur ainée de Nukata et son frère Ooama tombe amoureux de Nukata. Cinq ans plus tard, Ooama et Nukata sont mariés et ont une fille.

Ooma parle, rêveur, à Nukata de ses projet de gouverner leur empire Yamato avec son frère. Comme Nukata écoute son bavardage naïf, heureux, elle devient gênée. Plus tard, Nakano Ooe arrive et dit à Nukata qu'elle a grandit et est devenue très belle. Il est tombé amoureux d'elle et la veut pour lui. Hésitante entre les deux frères, Nukata fuit à la maison de son père.

Nakano Ooe vient la chercher, lui disant de ne pas être égoïste. Pendant son absence, des rumeurs sur la tension entre les frères ont grandies et entrainent un soulèvement de leurs vassaux. Elle retourne à la cour, là, Nakano Ooe précise qu'il ne pliera pas. Il a besoin de Nukata. Sous la pression politique, Ooama consent à renoncer à sa femme, permettant à son frère de la faire son impératrice.

Pendant de temps, l'ami d'enfance de Nukata a suivi son appel à la justice. Bien que marié, Amehiko continue de penser que Nukata et sa parfaite dame, et estime qu'il est apaisant d'être en vue du palais où elle vit. Son épouse s'inquiète pour lui, comme il est rongé par sa passion. Son frère vient le chercher mais il fuit de nouveau à Arima.

En Arima, l'impératrice Saimei va aux sources d'eau chaude pour se détendre. Elle a de nombreux souvenirs, y compris la naissance de son premier fils, Nakano Ooe. Elle parle avec Nukata, elle se demande si son fils n'est pas devenu trop puissant pour son propre bien. Nakano Ooe l'a suivi à Arima, il a l'intention de tuer le jeune Arima no Miko, dont la rumeur dit qu'il organise une rébellion. Il parle de ses plan a Nukata, et elle plaide pour la vie du jeune garçon, mais Nakano Ooe ne change pas d'avis. Amehiko se promène ici là et les découvre. Il est choqué de voir que les rumeurs sont vraies, et que Nukata soit avec Nakano Ooe. Dévasté, il rentre chez lui, où il s'effondre dans les bras de son épouse.

Au tribunal, un Ooama ivre arrive en retard pour l'anniversaire de Nakano Ooe. Il demande l'autorisation à son frère de danser avec sa femme. Il refuse de céder sa place, dansant avec une passion plus grande tandis que Nakano Ooe gardent un oeil sur lui. Il saisit Nukata et essaye de partir, mais Nakano Ooe tire son épée pour l'arrêter. Le combat entre les deux frères commence, mais à la fin, Ooama ne peut pas tuer son frère. Et toujours Nakano Ooe refuse de renoncer Nukata.