Mizu Natsuki
Topstar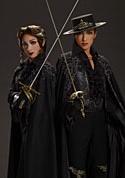 Hors ligne



Inscrit le: 02 Juil 2007
Messages: 1 992

Posté le: Lun 1 Sep - 20:01 (2008)

 

   Sujet du message: Histoire

---

Wonderful Dreamer, People Dreaming






Le thème du spectacle est "la revue anniversaire", en l'honneur des quatres plus grands compositeurs de la compagnie : Shirai Tetsuzou (1900 - 1983), Takagi Shirou, Utsumi Shigenori (1915 - 1999) et Kamogawa Seisaku.

* Shirai Medley: Moon Troupe. "Akai Keshi no Hana" (Sena), "Momo no Hana Saku Oka" (Kiriya), "Shiroi Tsubaki" (Oozora), and "La Belle Takarazuka".

* Takagi Medley : Snow Troupe. "Hoshi wa Warera ni" (Asami), "Dorobou no Uta" (Mizu), "Takarasienne wa Eikou Are".

* Utsumi Medley: Star Troupe. "Granada" (Kozuki), "Kimi Arite Koso" et "Minami no Aishuu" (Aran), "Fine Romance" (Aran et Shirahane).

* Kamogawa Medley : Cosmos Troupe. "Love Love Love" (Takashiro, Shijou, et Yamato), "Ai no Concerto", "Funny Feeling", "Shango", "My High Swing", "Nova Bossa Nova" et "Ai no Houseki".

* Takarazuka Themes: Senka. "Sumire no Hana Saku Koro", etc.




* Basé à nouveau sur le choix des spectateurs...

* "Citrus Wind" et "Southern Cross Revue" par Oozora et un otokoyaku second rang

* Duo Asami / Rui : "Utakata no Koi"

* Duo Kozuki : Maikaze : "Night and Day" de "Gone With the Wind"

* Duo Takashiro / Ayano : "Me and My Girl"

* Duo Sena / Shirahane : "El Amor" de "Sorrowful Cordova"

* Section Musicale speciale : "Singin' In the Rain" (Yamato), "How to Succeed" (Oozora / Kiriya), "Kiss Me Kate" (Mizu), "Copacabana" (Aran / Toono), "Oklahoma" (Todoroki). "Oka no Ue no Johnny" (Sena), "Je t'aime" (Takashiro), "Cest Charmant!" (Asami), "Yume Jin" (Kozuki), et "Sinner Man", "Ai!" (toutes).

* Finale avec "Mon Paris"