Mizu Natsuki
Topstar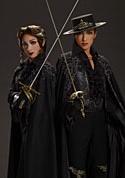 Hors ligne



Inscrit le: 02 Juil 2007
Messages: 1 992

Posté le: Lun 1 Sep - 20:49 (2008)

 

   Sujet du message: Histoire

---

Allo Revue ~ Mon Paris 80 ans ~




Célébration du 80ème anniversaire du spectacle "Mon Paris", premier spectacle de style parisien jamais créer au Japon. Il a été joué la première fois par Hanagumi puis par Yukigumi en 1927.

Ce special permet également de fêter le 5ème anniversaire de "Sky stage" joué en simultané au théatre de Tokyo.

Lors de la représentations du 8 septembre, le premier act se déroule à Tokyo et retransmis via satellite au Theatre à Takarazuka.






Prologue



* Hymne anniversaire de la revue "Revue Kinenbi Sanka"

* Opera italien : "Italiana", "Barbacole", "Ciao ciao Bambina", "Al Di La", "Una Lacrima Sul Viso", "Arrivederci Roma" et "Da Troppo Tempo"

* Comédie musicale style orientale : "The Harem Palace", "Aenis' Song", "Night of Nostagia", "I Lost You" et "Wandering Flamenco"

* Jazz New York : "New York March", "Sing Sing Sing", "Take the A Train", "In the Mood" et "Blues in The Night"

* Mon Paris: "Mon Paris", "Le Jazz Hot", "A Paris Dans Chaque Faubourg", "Paris Rascal", "Inch'allah", "Mauvais Garçon", "La Raptur", "Hymne A L'Amour"




Todoroki + Star + Cosmos - Tokyo ←→ Takarazuka

- Legend of the Revue
- Stylish!
- When You're Dreaming
- Carribean Night
- karazuka Glory
- Singin in the Rain
- Life
- Our Farewell is in the Sunset's Glow
- Amor, Amor

* Finale: Recital Est-Ouest Tokyo ←→ Takarazuka

- Ca C'est Paris
- Paris Canaille
- Retour A Paris
- Sous les toits de Paris
- Parisette
- Paris Paname
- When the Violets Bloom






*Opening Disco Medley: "Vogue", "Hot Stuff", Uptown Girl", "Holding Out for a Hero", "Take my Breath Away", "I will Survive", "Ai no Corrida" et "One Night Only"

* OSA & ASA : "A Fragrant Violet Flower" et "Applause Takarazuka!"

* Recital des héroines : "Lambeth Walk", "Do Re Mi", "The Rain in Spain", "I Could Have Danced all Night", " Too Darn Hot" et "I Enjoy Being a Girl"

* Recital de dance : "I Love Paris", "Mukashi Futari wa Aishi atta" et "Mack the Knife"

* Recital de chansons : "Night and Day", "El Cumbanchero" et "It Don't Mean a Thing"

* Prix de K music pour "One Heart"


* Finale A - "Performance Theme Collection"

- The Last Dance

- Eres Mi Amor

- El Viento

- Where in the World


* Finale B - C : "Mon Paris"