Mizu Natsuki
Topstar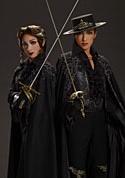 Hors ligne



Inscrit le: 02 Juil 2007
Messages: 1 992

Posté le: Mer 14 Jan - 22:09 (2009)

 

   Sujet du message: Histoire "Natasha of the Rainbow"

---





En 1932, l'ombre de la guerre menace, mais le Japon est encore en paix. Un promoteur de l'Impérial Symphony, le Seigneur Kuretake Kimiya, est mourrant. Il appelle à son chevet Sanjou Kaoru, le fiancé de sa fille Umeko et futur chef d'orchestre.conducteur. Lord Kuretake a une demande importante : Il ya de nombreuses années, il a eu une fille avec une femme russe, et il supplie Sanjou de se mettre à sa recherche à Shanghai. Parce que sa mère, Anastasia, une cantatrice, amie intime de la princesse a disparue avec la famile impériale quand la révolution est arrivée. Depuis, Kuretake s'est marié et il veut que sa fille Natasha vienne vivre chez lui.

Secrètement, Sanjou et son gestionnaire, Nagaoka se dirigent vers Shanghai. Sanjou y rencontre une belle fille qui chante dans le club de jazz d'un hôtel.un club de jazz dans un hôtel. Parce qu'elle est métisse, elle est devenue un garçon manqué ... bruts et il s'avère qu'elle est Natasha! Elle a été élevée par la famille Kurisaki, qui possède un petit restaurant, et elle et leur fils, Takeshi, sont frère et soeur. Sanjou invite Natasha à un concert, mais à la dernière minute, elle doit remplacer la vedette. Sanjou est surpris par son incroyable voix. Maintenant, il est déterminé à la ramener mais à lui assurer une bonne formation pour devenir cantatrice. Même Takeshi lui dit qu'il serait préférable d'aller au Japon mais il s'avère, qu'il aime Natasha bien plus qu'une simple sœur. Ne voulant pas changer ses sentiments, Natasha embarque avec Sanjou.

Mais la vie au Japon est misérable pour Natasha. Les Kuretake la traite comme une servante et Umeko suspecte sa relation avec Sanjou. Quand elle va à l'école, elle apprend le décès du Seigneur Kuretake e décide de s'enfuir. Takeshi l'a suivie au Japon, et il recherche désespérément Sanjou et elle dans les rues de la ville ...