Mizu Natsuki
Topstar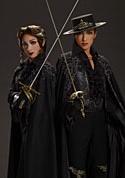 Hors ligne



Inscrit le: 02 Juil 2007
Messages: 1 992

Posté le: Mar 27 Jan - 13:21 (2009)

 

   Sujet du message: Histoire "In the Tender Light Of a Fine Spring"

---

In the Tender Light of a Fine Spring




Sous le règne de l'empereur Ichijo Hokke, la famille Fujiwara est à son apogée, une bande de voleurs attaque les maisons de personnes ayant des relations avec les Hokke (nord). Leur chef se représente comme Shutendoji en version démon.

Kaneie Fujiwara, le Premier ministre et chef de la branche Hokke, donne une splendide fête en l'honneur des cerisiers en fleurs à son manoir. Bien qu'il adore danser avec son épouse, Kita-no-kata et a jeune sœur, Mibu-no-naishi, il leu dit que Shutendoji et sa bande ont encore frappés, chez eux. Shutendoji dit à Kaneie, "La régence et la dictature de Fujiwara ne doit pas continuer", puis s'enfuit avec son homme, Kidomaru. Kaneie, furieux, lui crie qu'il défie la branche Hokke. Il donne des ordres pour traquer Shutendoji par Tomochika Noyori, chef de la police impériale, qui soupçonne Yasusuke Fujiwara. L'épouse de Kaneie et sa sœur insistent sur le fait que ce jeune homme ne peut pas agir comme un démon. Tomochika confiant de son arrestation, défis les dames en leur disant qu'il à la preuve de l'identité Shutendoji.

Tomochika établit un piège pour Shutendoji. Par une nuit étoilée, Shutendoji et ses hommes sont pris au piège et luttent d'arrache-pied avec la police dirigée par Tomochika. Shutendoji, est en fait Yasusuke, il croise le fer avec Tomochika qui le blesse profondément à la joue avant de fuir. Avec la cicatrice qui révèle son identité, Yasusuke ne peut assister à une fête où les invités font des poèmes. En dernier recours, il pense utilisé son frère, Yasumasa Dazaifu, qui est son jumeau. Yasumasa, refuse au départ puis décide de le remplacer.

Le jour de la fête, Kaneie et Tomochika inspecte Yasusuke à son arrivée. Kaneie est tellement furieux qu'il renvoit Tomochika. Kaneie demande à Yorimitsu Minamoto, chef de la garde équestre et à son jeune frère Yorinobu, deuxième secrétaire de l'administration civile, de traquer Shutendoji.

Wakasa, la soeur d'Yorimitsu, est amoureuse d'Yasusuke. Elle est présente à la fête dans l'espoir de voir Yasusuke qu'elle a perdu de vue depuis un certain temps. Elle voit qu'il n'est pas Yasusuke, en disant qu'il peut tromper une femme, mais pas une amoureuse. Quelques jours plus tard, elle voit Yasusuke qu'il lui révèle sa double identité. Il lui dit qu'il n'a pas d'autre choix que de vivre comme Shutendoji, maintenant qu'il a la cicatrice sur sa joue gauche. Il choisit de lui dire adieu.

Yorimitsu a étudié avec Yasusuke à Kangakuin, une académie privée fondée à l'origine par Fuyutsugu Fujiwara pour l'éducation des fils de la famille. Il est toujours ami avec Yasusuke, et le comprend tout à fait. Cependant, il traque Yasusuke dans le respect des ordres reçus. Yorinobu considère sa jeune soeur avec anxiété, il invite Yasumasa et lui demande des de nouvelles de son frère aîné. Bien qu'il éprouve de la sympathie pour son frère, Yasumasa pense que Yasusuke devrait payer l'amende pour son délit. Yasumasa asks Yorinobu to take him into his service because he himself wants to arrest his elder brother. Yasumasa prie Yorinobu de le prendre à son service, parce qu'il veut lui-même arrêter son frère aîné. En rejoignant Yorinobu, il décide d'abandonner son nom de famille et choisit, Yasumasa Hirai.

Yasusuke à ses hommes, inquiets depuis l'incident, que leur chef Shutendoji est blessé. Il leur dit qu'il va se tuer dans la caverne de la montagne Oe et s'en va.

Quelques jours plus tard, Yorimitsu reçoit une lettre de Shutendoji en disant qu'il est à Montagne Oe. Yorinobu commence avec Wakasa l'ascension, où il envisage de demander à Yasusuke de s'enfuir avec elle. Au même moment, Yorimitsu et Yasumasa arrivent....