Mizu Natsuki
Topstar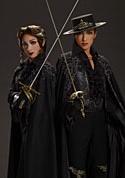 Hors ligne



Inscrit le: 02 Juil 2007
Messages: 1 992

Posté le: Lun 2 Fév - 13:48 (2009)

 

   Sujet du message: Histoire

---




Michael et Steve, sont amis d'enfance, élevés dans le ruelles de Chicago. Un jour Steve retourne voir sa tante, Michael doit s'acquitter de deux vols. Par la suite, ils doivent suivrent des chemins différents.

Une dizaine d'années plus tard, Michael devient un gangster réputé. Dans les rues de Chicago, il est une fois de plus réunis avec Steve, qui est médecin dans une clinique de Chicago. Même s'ils vivent dans des milieux différents, leur amitié n'a pas changé.

One day, Michael happens to meet Elly, a young lady to whom Rocky, the gang's Boss, has become close and intends upon making his mistress. Un jour, Michael rencontre Elly, une jeune femme que Rocky, le gang du Boss, veut prendre pour maîtresse. Michael supplie Steve de la cacher dans a clinique.

Il ne s'agit pas seulement de l'amour de Rocky pour elle, mais aussi de Michael dont les sentiments grandisent peu à peu....