Mizu Natsuki
Topstar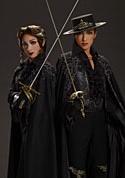 Hors ligne



Inscrit le: 02 Juil 2007
Messages: 1 992

Posté le: Lun 2 Fév - 15:36 (2009)

 

   Sujet du message: Histoire "In Quest of the Blue Bird"

---

In Quest of the Blue bird




Au dernier étage d'un gratte-ciel de New York, une fête a lieu pour annoncer les fiançailles de l'actrice Brenda Burton et Jake MacNaughton, le fils héritier du président d'El Grande, le numéro un des sous-vêtements aux Etats-Unis. Brenda agit pour l'image d' El Grande en raison de sa fortune, mais aussi pour assurer sa carrière de comédienne. En fait, le père de Jake, Anthony, et le manager de Brenda, Dennis, sont opposés au mariage et leur conseille de réfléchir. Brenda et Jake font la sourde oreille.

Le jeune frère de Jake, Vincent arrive....Ils ne sont pas du même sang, mais frères par le mariage. Vincent a travaillé un moment avec Jake à El Grande. Comme il ne pouvait plus faire face à la& gestion inhumaine de Jake, il quitte la compagnie et commence à travailler en tant que secouriste alpin. Jake profite de son arrivée pour tenter de le convaincre de revenir à l'entreprise. Anthony souhaite également le retour de Vincent. Anthony profite de cette occasion pour dire à son fils qu'il va se remarier, après la remise des rênes de l'entreprise à Jake. Jake déplore ce remariage et devient dur avec lui. Suite à cet incident, Vincent lui rappelle le jour où ils ont perdu leur mère, Maria.

Quelques jours après la fête, Jake visite une usine clandestine dans un pays sud-asiatiques. Vincent le rejoint à lui et voit que cette usine fait de la contrefaçon des produits El Grande. Jake découvre que l'équipe de secour de Vincent est sur le point de se dissoudre à cause de difficultés financières. Il lui offre son aide financière, à condition que Vincent travaille pour El Grande. Vincent accepte, pour le bien de l'équipe. Peu de temps après, il change d'avis et promet à Jake de travailler d'arrache-pied. Jake se réjouit de la détermination de son jeune frère et estime que lien de fraternité se rétablie. Il s'avère que la famille qui falcifie les produits El Grande est pauvre. Jake dénonce sévèrement la famille pour ses produits tandis que Vincent lui demande de leur pardonner. Puis, tout d'un coup, il entend un oiseau chanter. Jake regarde et voit l'oiseau bleu. L'oiseau lui dit: "S'il vous plaît pardonnez-leur."
Il se demande si c'est le bleu oiseau qui apporte le bonheur. Saisie d'un sentiment étrange, Jake pardonne brusquement à la famille. Comme il est sur le point de partir, un mystérieux vieillard arrive. Le vieil homme propose de lui faire quelques prédictions par les oiseaux pour remercier Jake. Selon le vieil homme, l'oiseau que Jake aura choisit lui dira le nom de son destin. Jake pense que c'est impossible, car il croit à la science moderne. Toutefois, dès qu'il voit l'oiseau bleu, il choisit. L'oiseau bleu lui dit: "Votre destin est Gina Coulter." Il n'a jamais entendu ce nom avant et avec surprise, se demande qui c'est. Le nom le hante mais il juge absurde cette divination. continue à la peine de lui mais il juge absurde la divination. Il est à l'aéroport avec une pancarte sur laquelle "Gina Coulter" est écrit.

Quelques jours après leur retour, Milborne et les autres employés d'El Grande sont en train de préparer la présentation de nouveaux produits. Parmi les télégrammes de félicitations de leur présentation de nouveaux produits, Jake constate un télégramme de Paris envoyé par une personne du nom de Gina Coulter. Ce hasard lui donne l'impulsion d'aller à Paris rapidement. dans l'urgence. Vincent, Brenda, Jake, Dennis et sa secrétaire Susan se joignent à lui pour trouver Gina.