Mizu Natsuki
Topstar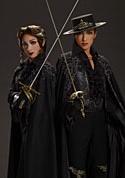 Hors ligne



Inscrit le: 02 Juil 2007
Messages: 1 992

Posté le: Mer 4 Fév - 15:09 (2009)

 

   Sujet du message: Histoire "Milan Wrapped in a Fog"

---





Fin de année 1850, le Nord de l'Italie est sous domination autrichienne. , à la fin 1850. Lorenzo Croce, un fonctionnaire de Milan, voit pour la première fois, Francesca, la fille de Martini, un marchand de soie de Milan. Elle proteste à Karlheinz Berger, Major de l'armée autrichienne, sur un ordre récent. Le siège de l'armée autrichienne a suspendu les activités de sa famille en raison d'une suspicion de son frère aîné, Pietro, comme membre d'un groupe anti-autrichien. Lorenzo a pour ordre d'enquêter sur Pietro. Il joue le médiateur entre Francesca et Karlheinza et règle leur différend.

Lorenzo et Francesca vont au bar "Amapola", où il retrouve à nouveau Giambattista qu'il n'a pas vu depuis des années. Giambattista est de retour au le pays pour se réfugier. Lorenzo et Giambattista étaient des membres actifs du mouvement anti-autrichien quand ils étaient étudiants. Il ya dix ans, il ya eu cinq jours d'intenses combats de rue à Milan, entre la population et les troupes autrichiennes. Cette période fût appelée plus tard, les cinq jours de Milan. Le père de Lorenzo a été jugé responsable de l'insurrection et considéré comme un anti-autrichien. L'ensemble de sa propriété lui a été retiré, et Lorenzo à peiné pour trouver un emploi dans la municipalité de Milan. La famille de Giambattista a été détruite. Il est parti en Sardaigne, où il est devenu marchand. Il est une relations d'affaires des martinis et a rencontrer Pietro plus d'une fois. Giambattista insiste sur le fait qu'il est trés peu probable que Pietro ai pris part à des mouvements anti-autrichienne.

Les coquelicots d'un magasin de fleurs attire l'attention de Francesca, Lorenzo lui raconte son souvenir de coquelicots pendan son séjour en Espagne. Francesca pleure en silence, se rappelant le domaine de coquelicots, qu'elle avait vu lors d'un pique-nique avec sa famille. Ce sont les jours heureux pour elle...

Lorenzo et Francesca vont au Casino Palazzo, connu pour être un repaire de membres d'un mouvement anti-autrichienne. La propriétaire, Madame Emma et ses employés nient connaitre Pietro. Pietro, ivre, arrive et s'installe aux jeux de hasard, il semble pas avoir une relation avec un mouvement anti-autrichien. Lorenzo promet à Francesca d'aller au siège de l'armée autrichienne le lendemain pour dégager son frère de tout soupçon.

Le jour suivant, Lorenzo va voir Karlheinz. Il le persuade de l'innoncence de Pietro. Karlheinz reconnaît la dignité dans le cœur de Lorenzo et commence à penser qu'il n'est pas une personne ordinaire.

Lorenzo, qui travail comme simple fonctionnaire de Milan a, en fait, un autre visage. Il est le chef du mouvemen anti-autrichien que recherche Karlheinz. Les mouvements d'expulsions des autrichiens s'emplifient dans toute l'Italie.

Pendant la nuit du festival, lorsque les Milanais dansent et chantent, Lorenzo invite Francesca à voir un champ de coquelicots le jour suivant. Depuis, leur rencontre, ils sont attirés l'un vers l'autre...

Dans le domaine de coquelicots, Lorenzo révèle à Francesca sa véritable identité et de l'utilisation du Casino Palazzo comme siège. Elle a peur qu'il ne la laisse lors de la bataille contre les autrichiens. Elle veut l'empecher de se battre...Toutefois, elle pense qu'ils se sont donner beaucoup de mal pour se préparer à une insurrection. Elle lui dit : "Vous devriez aller à la guerre." Il l'embrasse, déterminé à lutter pour la dignité de Milan.

En Novembre, le siège de l'armée autrichienne a enfin identifié le chef du mouvement anti-autrichien et tentent de retrouver sa trace. Giambattista décide de rejoindre Lorenzo tandis que les tensions entre Autrichiens et Milanais montent. Francesca vient voir à nouveau Karlheinz. Elle apprend que le chef du groupe a été arrêté et sera traduit devant un tribunal militaire. In fear of the worst, she implores him to help Lorenzo saying, "I will do anything in order to save him." Dans la crainte du pire, elle l'implore de l'aider en disant : "Je vais tout faire pour le sauver."

Lorenzo retrouve Karlheinz au siège autrichien. Même s'ils sont ennemis, ils ont une bonne compréhension de l'autre. Préoccupé par le point de vue de chacun, ils parlent calmement. Ils pensent qu'ils pourraient être des amis intimes pour parler de la tristesse de combats et la joie d'aimer. Le convoi charger d'emmener Lorenzo à Sforza approche....