Mizu Natsuki
Topstar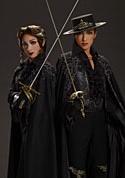 Hors ligne



Inscrit le: 02 Juil 2007
Messages: 1 992

Posté le: Ven 13 Fév - 10:28 (2009)

 

   Sujet du message: Histoire "La Mariposa"

---




Un homme du nom de Nero vole des prisonniers politiques d'un petit pays voisin du Mexique en se cachant dans la cargaison. Il dirige une boîte de nuit de grande classe et derrière les portes closes se cache un trafic. Bien qu'Escobar, soit le meilleur ami de Nero, il sait que le Président Saldivar leur permet secrètement de continuer ce commerce illégal, car il a peur d'attirer l'attention populaire. Nero est déterminé à faire de son mieux pour son pays qui a reçu coup après coup et résultat, sa population est de plus en plus mécontente. Nero a un but pour son trafic. Lui et Escobar ont appartenu à la troupe, qui a lutté pour la montée du gouvernement actuel. Toutefois, le gouvernement militaire, soutenu par un grand pays, a pris le pouvoir et continue à exploiter et à réprimer sa population, laissant les gens dans la pauvreté. Nero se rend compte que les armes ne peut guère apporter de changements positifs. Il décide de le faire sans violence, comme il peut pour le bien de son pays bien-aimé. Son activité de contrebande est lancée en vue de faire de l'argent pour construire des hôpitaux, des écoles et ainsi de suite. Juste avant de commencer son activité, il rencontre Ismayor, propriétaire d'une plantation qui garde ses distances par rapport au gouvernement. Nero lui expose son idée, et demande pour sa coopération pour le lancement du commerce illicite. Ismayor accepte en disant qu'il voudrait être utile à leur pays. Nero eventually meets Ismayor's daughter, Selia and has a feeling that he would fall in love with her. Nero rencontre la fille d'Ismayor, Selia, est a le sentiment qu'il va tomber amoureux. Quelque temps plus tard, Selia commence à travailler comme danseuse dans la boîte de nuit de Nero et devient plus proche de lui, comme il l'avait prévu.


La fête d'anniversaire du Président Saldivar a lieu à la discothèque Nero. Saldivar présente Nero à Ferrutti, qui est un multimillionnaire de Miami. Ferrutti invite Néro à parler affaires dans les coulisses. Soupçonnant le danger, Nero répond qu'il ne comprend pas de quoi il parle. Nero en parle aussitôt à Escobar, et ensemble établissent un plan de secours si le danger s'avérait exacte...Nero laisse Escobar et voit Linares, le jeune frère de Selia, qui est chanteur à la discothèque. Tout d'un coup, un coup de feu retentit. Un employé de la boîte de nuit engagé sur la recommandation de Linares vise Saldivar. Escobar intervient Juste à temps, et sauve Saldivar. Nero et Escobar ont le sentiment que l'employé était déterminé à tuer Saldivar pour se débarrasser ainsi de la racine de tous les maux. Nero conclut que Linares a remis le fusil..... Linares explose de colère en déclarant qu'il ne peut plus tolérer la situation de son pays. Il raconte à Nero qu'une violente guerre commencera dès le retour du leader de son groupe. Il refuse d'écouter les conseils de Nero et s'en va.

Escobar, a fait une recherche sur Ferruti, et informe Nero qu'il est le boss de la mafia de Miami. Les deux hommes comprennent que Saldivar veut les démanteler en les liant à la mafia. Ils décident de suspendre le trafic pour le moment.

Nero appelle Ismayor afin de lui expliquer ce qui se passe. Selia anxieuse dit à Nero qu'elle n'a pus entrer en contact avec Linares depuis l'échec de l'assassinat de Saldivar. Il lui révèle que son jeune frère est membre d'un groupe rebelle. Elle est assez surprise par l'annonce, comme il le croyait, il n'a eu rien à voir avec les activités antigouvernementales. Elle se sent déprimée car une vie paisible et sûre est rare dans son pays. Nero la rassure en lui promettant des jours meilleurs. Il lui demande d'arrêter de travailler à la boîte de nuit, pour sa sécurité et promet de revenir dès qu'il sera hors de danger.

Actuellement, la mafia et le groupe rebelle sont tous impatients de contrôler le pays. Nero est déterminé à lutter de nouveau avec Escobar, au péril de leur vie. Ils ont pour objectifs : une confrontation avec les deux Ferruti et Saldivar ainsi que de ramener la paix dans leur pays où Nero veut vivre avec sa bien-aimée Selia.