Mizu Natsuki
Topstar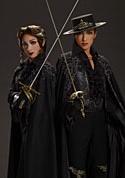 Hors ligne



Inscrit le: 02 Juil 2007
Messages: 1 992

Posté le: Sam 14 Fév - 23:50 (2009)

 

   Sujet du message: Histoire "Floating Bridge of Dreams"

---

Floating Bridge of Dreams




Le "brillant" Genji est mort. Il était doté d'une rare beauté et de nombreux talents qui l'ont emmenés vers la gloire. Beaucoup d'années se sont écoulées depuis, et à la cour impériale, Niou, le troisième prince de l'actuel empereur et Kaoru, fils cadet de Genji parlent de la beauté et du pedigree.

Dans la soirée à un banquet impérial, Niou et ses invités dansent....Niou s'arrête de danser dès qu'il remarque l'absence de Kaoru et avance comme excuse qu'il a retrouver une courtisane. Niou va en catimini dans la chambre de la courtisane Kosaishonokimi.... Toutefois, il tombe dans le piège tendu par sa sœur aînée qui a employé la courtisane. Elle est si préoccupée qu'elle lui souhaite d'avoir une bonne leçon. En conséquence, il est entouré par les femmes qu'il a courtisé puis abandonnées. Niou s'échappe en profitant de l'inattention des dames. Il apprend que Kaoru est à Uji, une petite ville près de Kyoto. Il est inquiet pour lui car sa bien-aimée est morte depuis peu. Niou va à Uji et trouve l'amour de Kaoru, la demi-soeur d'Onokimi, qui est son double parfait. Kaoru part pour Kyoto, et Niou secrètement se glisse dans la maison en se fesant passer pour Kaoru. Toutefois, Ukifune voit le subterfuge.

Dans la cour impériale, un conflit politique s'installe entre l'héritier Genji et le Prince Yugiri. Cependant, la relation entre le Prince et la deuxième fille de Kobais, un clan rival des Minamotos (auquel appartenait Genji) est dévoilé. Le Prince est réduit au titre de ministre des cérémonies, un poste honorifique accordé aux exclus du trône. Au milieu de la lutte pour le pouvoir, Niou est sélectionné comme candidat indépendamment de sa volonté.

Ukifune joue de la cithare, l'instrument préféré d'Onokimi... Elle se demande si elle est toujours un substitut d'Onokimi. Niou lui dit qu'elle n'est pas obligée de jouer de la cithare, et efface ces larmes. Ils se sentent fortement attirés l'un vers l'autre. Niou ne s'empêcher de l'aimer, mais il est onscient qu'elle plait à Kaoru avec qui il a grandi...