Mizu Natsuki
Topstar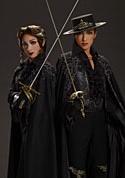 Hors ligne



Inscrit le: 02 Juil 2007
Messages: 1 992

Posté le: Sam 21 Fév - 10:58 (2009)

 

   Sujet du message: Histoire "A sad Goodbye in the Thames Fog"

---

A Sad Goodbye in the Thames Fog





Années 1680, la Grande-Bretagne est engagée dans une lutte entre l'Espagne et la France. Chaque jour, des accrochages et crises surgissent dans les Antilles et Caraïbes. Le gouvernement britannique a beaucoup de difficultés à résoudre tous ces problèmes, bien qu'elle s'appuie sur sa puissance navale, depuis l'ère Viking, aucune solution concrète n'a été trouvée. Mais la Grande-Bretagne a un dernier atout, Robert Clémentine, dont les pouvoirs de commandement sont sans pareil, mais a quelques zones sombres dans sa vie privée.

Un soir, dans un Salon de la Cour, une fête a lieu en l'honneur de la princesse Anne, qui vient d'arriver de Vienne. Tous les jeunes nobles papillonnent autour d'elle pour savoir qui elle va choisir...Robert Clémentine fait un pari avec le Prince George du Danemark, pour savoir qui des deux elle choisira.

Lorsque la fête se termine, Robert invite la princesse à faire une balade avec lui, mais elle refuse, et le propose au Prince George. Robert, reste tout de même confiant.

Bien que tout trois s'amusent au jeu de l'amour, deux étranges personnes parlent entre elle. L'une des deux est Henry McBright, un fonctionnaire du gouvernement, et l'autre, Lady Catherine Harley, gouvernante de la princesse Anne. Les deux sont des espions, envoyés par le gouvernement français pour recueillir des informations sur la marine britannique.

Robert essaie toujours de gagner le coeur de la princesse Anne, et pendant ce temps, la situation entre la Grande-Bretagne et la France s'empire. Chaque gouvernement demande secrètement l'aide des pirates pour arriver à leurs fins, sans déclarer ouvertement la guerre. La Grande-Bretagne ne peut pas combattre ouvertement les Français, et décide d'utiliser comme Robert atout. Le plan est que Robert soit envoyé en Jamaïque comme chef des pirates.

Robert fait croire qu'il est à Plymouth, en dehors de la Jamaïque. Quand il arrive en Jamaïque, il prend le nom de Captain Black, et devient commandant en second au titre de l'ex-pirate Henry Morgan. Il remporte une grande victoire sur la flotte française et fait un retour triomphal en Angleterre. Lors de son départ pour la Jamaïque, il fût à l'origine de plusieur problèmes : Anne, réalise qu'elle ne verra plus Robert et en a le coeur brisé ; Catherine et Henry, suspectent la véritable destination de Robert, et fouillent partout. A ce moment, une demande officielle arrive du fils du roi du Danemark, le Prince George pour se marier avec la princesse Anne. Mais elle est incapable d'oublier Robert.

Anne, apprend le retour de Robert et envoi une de se dames le quérir.

Ils se rencontrent enfin dans les jardins du Palais Royal. La princesse Anne tente de garder ses sentiments, mais à la fin, elle ne peut tenir plus longtemps, et lui avoue son amour. Cette dernière barrière tombée, et ils tombent amoureux. En contraste avec leur amour, les relations entre la Grande-Bretagne et la France sont au bord de la guerre. Le gouvernement britannique, voit une grande bataille navale imminente avec de la France, il construit une flotte de navires pirates et Robert devient amiral. Le gouvernement a bon espoir que l'amiral, remporte une victoire. Toutefois, cela signifie que Robert est en fait un pirate.

Robert, malgré son amour se rend compte que sans son aide, le pays sera en danger de mort. Il abandonne Anne pour son devoir.

Un jour de tempête, Robert raconte à Anne qu'il ne veut plus jamais la revoir et lui dit adieu.

Quelques jours plus tard, avant de mettre les voiles, Robert va boire un whisky dans un café, et tombe sur Anne qui souhaite savoir si ce qu'il a dit est vrai. Robert, lui dit la vérité, et explique qu'il ne lui a menti que pour faire son devoir, et qu'il avait prévu de prier pour son bonheur au loin.

Robert, l'assure de son amour, remonte sur le bateau et met les voiles...