Mizu Natsuki
Topstar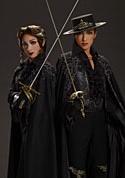 Hors ligne



Inscrit le: 02 Juil 2007
Messages: 1 992

Posté le: Sam 21 Nov - 14:01 (2009)

 

   Sujet du message: Histoire "The Tale of Genji"

---



Hikaru Genji est le fils de l'empereur, Kiritsubo-tei.

Hikaru Genji aime Fujitsubo depuis longtemps, même si elle a été l'amant de son père. Fujitsubo ressemble remarquablement à la mère de Genji, Kiritsubo no Koi, qui est décédé peu après sa naissance. Incapable de contrôler ses sentiments, Genji déclare son amour à Fujitsubo. Un fils, Reizei-tei est né, mais leur liaison devient interdite lorsqu'elle est connue de tous.

Hikaru Genji devient frivole. Il devient obsédé par la Consort, Rokujo. Au cours de cette histoire d'amour Genji se rend à Kitayama où il rencontre la belle petite princesse, Wakamurasaki, qui est l'image de Fujitsubo. Il décide de prendre soin d'elle et la considere comme sa femme idéale.

Dans sa jeunesse, Genji avait été forcé par ses parents d'épouser Aoi no Ue. Mais elle avait un fort caractère et n'ont pas eu une relation heureuse. C'est une des raisons qu'il lui fait prendre une maitresse après l'autre.

Au Festival de Kamo, Aoi no Ue, affronte les serviteurs de Rokujo, sa maîtresse, sur l'artère principale d'Ichijou. Furieuse, Rokujo maudit sa rivale. Aoi est troublée est devient fragile.

Après avoir donné naissance à Yugiri, l'enfant d'Hikaru Gennji, elle meurt. Choqué par sa mort, il fuit Rokujo et décide d'entrer au service du sanctuaire d'Ise avec sa fille.

Le père de Genji, l'Empereur se retire et Suzaku-tei assume le pouvoir impérial. Udaijin, membre de la nouvelle cour, teste sa puissance contre Genji.

Udaijin apprend que Genji et Oborozukiyo, une dame de la cour Suzaku-tei, se rencontre secrètement ; il essaye de renvoyer Genji de la cour. Genji fuit à Akashi, et bénéficie de l'hospitalité et la protection d'Akashi puissant Clan. Là, il tombe amoureux d'Akashi no Ue, la fille du chef de clan. Après deux ans, Genji est autorisé par le nouvel empereur de revenir à Kyoto.

L'année suivante, Suzaku-tei prend sa retraite et le fils de Genji, Reizei-tei monte sur le trône. Genji est nommé Dajo Daijin, gardien de Reizei-tei, et il a finalement un grand pouvoir politique.

Yugiri, le fils d'Aoi no Ue et Genji, tombe amoureux de la fille de To no Chujo, Kumoi n Kari. Ce dernier à l'intention de voir sa fille entrer à la cour et interdit leur union.

Hikaru Genji se marie de nouveau. Onna no Miya San, la troisieme princesse de Suzaku-tei devient l'épouse de Genji. Mais la princesse aime le Fils de To No Chujo, Kashiwagi, et porte son enfant. Lorsque Genji apprend leur amour, il comprend enfin la nature pécheresse de son amour pour Fujitsubo. Terrorisé, il soupçonne son père d'avoir été au courant de son secret tout le long de sa vie.