Mizu Natsuki
Topstar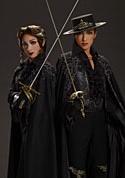 Hors ligne



Inscrit le: 02 Juil 2007
Messages: 1 992

Posté le: Mar 10 Juin - 20:17 (2008)

 

   Sujet du message: Histoire "Tale of a cowherder"

---




Une histoire japonaise dans les temps anciens. Goromaru, a child of a cowherd, was in the employ of Chuu-nagon's family of aristocratic lineage. Goromaru, un enfant d'un gardien de vache est employé par la famille chuu-nagon de lignée arisocratique. Dans cette famille, il y avait trois jeunes filles. L'aînée, nommé "Yarusena-Hime," était la fille de la première femme famille, les jeunes filles sont les enfants de la deuxième épouse. Yarusena-Hime est particulièrement belle et a un coeur exceptionnellement doux. Toutefois, elle est torturée par sa belle-mère, une femme à l'esprit inflexible et par ses soeurs.

Un jour, Sakon-no-Shoushou organise un concours pour désigner le coquillage le plus étrange. Il doit choisir son épouse parmi les participantes.

La femme de Chuu-nagon ordonne à ses filles de se joindre au concours, en espérant ardemment que l'une d'elle deviendrait l'épouse de Sakon-no-Shoushou. Toutefois, les filles n'avaient que des coquillages ordinaires et elle savait que Yarusena-Hime possède la perle rare.

Yarusena-Hime possédait la coque ultime cadeau de sa mère défunteet offre a une femme du concours de voler secrètement ce joyaux.

Entre-temps, Yarusena-Hime se marie avec un membre de la famille Sakon-no-Shoushou, qui se trouve être du rang le plus élevé de la cour. Goromaru se réjouis de cet heureux événement. Toutefois, des larmes coulent sur son visage....