Mizu Natsuki
Topstar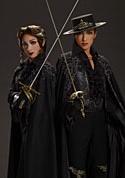 Hors ligne



Inscrit le: 02 Juil 2007
Messages: 1 992

Posté le: Mer 16 Juil - 04:58 (2008)

 

   Sujet du message: Histoire "Arabian Night"

---




L'oncle et la tante de Kamararzaman et d'Abriza ont pris la Babylonie, tuant leur père, bannissant leur mère et vendant les deux jeunes gens au marché d'esclaves. Tous les deux sont mis à prix à Bagdad, un duel d'enchères entre Grenal et Paman a lieu.....Paman gagne Kamararzaman, tandis que Grenal gagne Abriza. Plus tard, Grenal et sa famille sont choqués de constater qu'Abriza n'est pas la chose délicate, qu'elle semble être, mais plutôt une très jeune fille brute.

Sous le toit de Paman, les trois filles ainées tourmentent leur plus jeune soeur, issue d'une autre mère. Kamararzaman se sent très triste pour elle, et tente de l'aider.

Pendant ce temps, Grenal est préoccupé par son éternelle concurrence avec Paman. Abriza, ingénieusement leur dit qu'elle connait une carte d'un trésor légendaireque son père a donné pour Kamararzaman avant sa mort. Grenal convainc Abriza de parler et de convaincre son frère de lui céder l'objet. En contrepartie, elle donnera à Abriza sa liberté. Le fils de Grenal tente de parler à Abriza en lui disant que le trésor de son pays et sa famille ne doivent pas être remis à sa mère stupide, qui veut une victoire sur Paman. Il explique que, lorsqu'ils étaient plus jeunes, Paman et Grenal s'aimaient, mais Paman a épousé quelqu'un d'autre. Abriza est déterminé à aider Grenal......cependant.....

Maison de Paman, son astrologue et un magicien apparaît, avec une vieille femme. Paman has learned of the map. Paman a appris de la carte. Kamararzaman apprend que Pelome, le magicien, a volé les yeux de sa mère. Pelome a une affection pour manger de vieux yeux. Au lieu de céder la carte, Kamararzaman essaye de négocier les yeux pour sa mère, mais Pelome ne veut rien savoir. En dépit des protestations de sa mère, il remet la carte. Les yeux de Maimuun sont de retour, et les deux sont libérés. Kamararzaman est déterminé à reconquérir Babylon avec sa mère et Jawara.

Quand Abriza apprend tout cela, elle dupe le magicien, arrive à le rendre petit et l'avale. Elle a maintenant la carte et avec lui dans son ventre, elle lui ordonne de l'aider à arriver en Babylonie rapidement. Paman et Surrel viennent avec elle sur le tapis volant.

À Babylone, Mustafa et Rabe menacent Maimuun et disent à Kamararzaman de leur donner la carte. Ils ne sont pas heureux d'apprendre qu'il ne la pas. Kamararzaman est sur le point d'être tué, Surrel et Paman arrivent avec la carte. Abriza, malheureusement, tombe du tapis et Surrel donne la carte à Kamararzaman, qui la remet à son tour à Mustafa. Sa tante et oncle commencent à célébrer leur victoire, toutefois, Abriza arrive à sauver la journée.