Mizu Natsuki
Topstar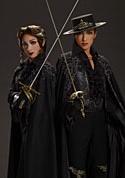 Hors ligne



Inscrit le: 02 Juil 2007
Messages: 1 992

Posté le: Jeu 14 Aoû - 23:34 (2008)

 

   Sujet du message: Histoire

---





Cydo le père de Mickey a disparu, laissant Cydo à la charge de sa belle-mère qui possède la société de musique MOM. La mauvaise belle-mère utilise Cydo pour des emplois subalternes dans l'entreprise, et refuse d'aider le jeune homme à faire un premier album. Au lieu de cela, elle utilise toute son influence pour promouvoir ses deux bon à rien fils, Donny et Alex.

Il souhaite passer une audition pour la célèbre idole Madonna Carey, il demande à sa belle-mère de l'aider à payer les frais d'audition. Bien qu'elle accepte de lui venir en aide, elle vole la chanson "Rock Cendrillon" à Mickey et la donne à son fils pour l'audition. Ne sachant pas cela, Cydo et ses amis célébrer un joyeux Noël. Un sans-abri, essaye de voler dans le resteaurant du père de Guille, un taco. Tout le monde veut le jeter, mais Cydo les convainc de lui donner des reste d'aliments.

Plus tard, il se rend compte que cet homme était le célèbre musicien Al, un vieil ami de son père, qu'il rehcerchait. Al avait abandonné la scène il ya dix ans, Mickey et Cydo avait été inquiet. Cydo et Al parlent, il lui confie ses rêves et l'amour de la musique et même du cynisme de l'homme.

Cydo lui-même est écrasé quelques jours plus tard, quand il réalise le mensonge de sa belle-mère. Enfin, il perd son dernier espoir. Al le trouve à la maison, et quand il entend son histoire, il lui dit de rassembler ses amis et de le retrouver près du théâtre chinois. Une fois là, il sort une carte d'un vieil ami....Mais avant de laisser les garçons, il les emmènent dans le magasin d'un autre vieil ami. Louis loue des costumes, mais il met en garde les garçons : ils doivent retourner les vêtements avant minuit, ou il y aura une amende de 200 $.

À l'audition, Madonna est moins impressionnée par les deux frères, et les refuse avant de pouvoir jouer une seule note. Tout à coup, les derniers artistes arrivent sur scène, Cydo et sa bande impressionnent tout le monde. Madonna emmène Cydo à l'extérieur pour discuter. Le cynisme de Madonna pour les "affaires" se heurte à l'idéalisme de Cydo. Cydo craque et lui parle de son père et de lui-même. Madonna est fatiguée d'être une marionnette, fatiguée de chanter les mêmes chansons encore et encore. Minuit arrive, Cydo et ses amis part pour ramener leurs costumes. Cydo enlève un anneau de verre offert par son père qui dit "Magic of Music", Madonna le prend après son départ.

Plus tard, Madonna le trouve au parc d'attraction où il travail, elle lui dit qu'elle lui rendra l'anneau s'il la suit. Il lui demande où elle veut aller, et elle ajoute : un endroit où personne ne la reconnaîtra. Il suggère une île déserte, mais elle veut endroit plus romantique ... comme la lune. Les deux parlent, et de nouveau Madonna est piqué par l'optimisme de Cydo. Au lieu de lui redonner l'anneau, elle le lance violemment au loin. Elle veut savoir pourquoi il est aussi naturel. Il répond qu'il est tombé amoureux d'elle, perturbée, elle s'en va.

En raison de la diffusion des auditions à la télévision, les demandes de travail pour Cydo et on groupe affluent à la société. Sa belle-mère refuse toujours de produire son premier album. Tout à coup, un avocat apparaît. C'est le 21 ème anniversaire de Cydo, et selon la volonté de son père, l'entreprise lui appartient. La seule eule clause, Cydo doit retrouver une fille connue seulement du nom d'Ella et de produire son premier album. A la lecture du journal de son père, Cydo, apprend qu'Ella interprète "Magie of Music". Mickey n'a pas été en mesure d'aider la jeune fille dans ses début.

Les employés et ses amis font tout pour retrouver Madonna et Ella, en vain. Le lendemain, les auditions doivent avoir lieu. Tout à coup, peu après minuit, une voix se fait entendre, "Ella "....